US-Morocco's Win-Win Arrangement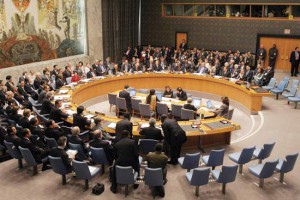 UNSC to adopt a resolution that mandate the peacekeeping mission in Western Sahara but without rights monitoring
After a hard week tensions between U.S. and Moroccan diplomatic circles, African Bulletin has learned that the United States has finally accepted to withdrawal its drafted resolution that proposed installing United Nations peacekeepers (MINURSO) to monitor human rights.
According to UN sources, the withdraw of the draft came after an intense Moroccan diplomatic responses followed by an intense active Royal diplomacy, led by The Moroccan King Mohammed VI. And it was absolutely a wise and rational initiative by the U.S. administration to re-consider the former decision to expand the powers of MINURSO. This because – added the UN officer- the US initial draft was not accompanied by any political or security guarantees to concern countries mainly Morocco and Mauritania who have expressed clearly their worries about the intentions of some neighboring countries to use the mandate Human Rights monitoring for the implementation of their political agenda aiming to raise the threshold of tension, and plant channels for political destabilization in Morocco.
Perhaps this was the real reason behind the strong reaction of Morocco, which is aware of the different implications of the resolution, and attributed to consider resolution an interference and intervention in the sovereign governing mechanisms of a Sovereign state.
A US former officer in Pentagon commented on the latest arrangement between Morocco: "By the review the draft resolution, Morocco has rescued its sovereignty on his own domestic affairs management mechanisms, against the restoration of American diplomacy over its own sovereignty, after it was a victim of an external penetration by lobbies namely the Robert F. Kennedy Center for Justice and Human Right "
It is also reported by many data analysis and mining centers all over the world such as  Jane's Intelligence which reported in its weekly bulletin posted on 17 April 2013, that " The US move follows concerted lobbying by human rights groups over the issue of alleged rights abuses in Western Sahara"
But finally "There will be a resolution very soon for a new mandate of the MINURSO," French Foreign Ministry spokesman Philippe Lalliot told reporters, referring to the mission's acronym. "We are close to a solution that will satisfy everybody".
The UNSC is expected to adopt a resolution today Thursday that prolongs the peacekeeping mission in Western Sahara but doesn't task it with rights monitoring as sought by Washington in its previous draft.
French Foreign Ministry spokesman Philippe Lalliot said reports that «We are close to a solution that will satisfy everybody".