François Hollande in Morocco to boost partnership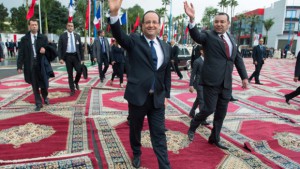 President François Hollande arrived Wednesday in Casablanca, then will travel on Thursday to Rabat for a visit which confirms the excellent relations between the two countries at all levels.
On the political level, relations between Rabat and Paris have long since freed from contingencies to register quietly in the continuity and mutual interests.
The fact that François Hollande is held after his election, that the King of Morocco Mohammed VI is the first head of state to be received at the Elysée, demonstrates this consistency and proximity maintained a side to the other.
Paris has also supported from the outset, the reform process initiated by King Mohammed VI at the beginning of his reign. And beyond the political alternations in France, France strongly supported the democratic transition in Morocco, which is evidenced by the adoption of a new Constitution in 2011.
In the context of the upheavals that have shaken the Arab countries, Paris also considered the Moroccan experience in the reform consensus and stability, as a model for countries facing transition to meet universal Human rights standards.
It is therefore not surprising that international political positions of Paris and Rabat are reasoned by this proximity. That was the case during the Mali crisis when Rabat showed full strategic support. This is also the case of the civil war in Syria and Middle East issues. And in particular, the question of the Western Sahara where Paris is imperturbably supporting the Moroccan autonomy plan since its introduction in 2007. A plan in which France sees "base realistic, credible and serious key to achieving a lasting political solution" to the conflict.
On another level, this mutual trust is nourished daily by dense and varied exchanges at all levels: human, economic, political, cultural … Hundreds of French companies, including forty listed on the CAC 40 are installed Morocco.
The kingdom also has some 80,000 French residents, the largest French community in Africa, while France welcomes nearly one million Moroccans, including a hundred thousand students.
Many facets of the Franco-Moroccan partnership will be on the agenda during the visit of François Hollande. Because the French President will be accompanied by eight ministers and sixty entrepreneurs, who should meet with King Mohammed VI, as well as the signature of not less than 29 bilateral agreements covering various sectors.