Zimbabwe: 'Mugabe resigned in exchange for protection from prosecution,' Source aware of negotiation deal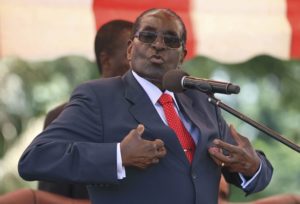 Sacked Vice President Emmerson Mnangagwa has been sworn in as president at the revelations about Robert Mugabe's Tuesday resignation emerge.
Mnangagwa has officially become Friday the second President of Zimbabwe after former President Robert Mugabe stepped down on Tuesday after his party Zanu-PF gave up on him and army pushing him in the corner.
Mnangagwa Wednesday addressing the party members after being picked up as the party's new leader pledged to create jobs.
Thursday a source who witnessed Mugabe's last hours in power indicated that the 93-year old former leader who led the country since its independence in 1980 gave up power in exchange guarantees including protection from prosecution.
The retired President according to the source who did not want to be named will receive a retirement package that includes a pension, housing, holiday and transport allowance, health insurance, limited air travel and security.
Mugabe also wanted to die in Zimbabwe the source noted.
"It was very emotional for him and he was forceful about it," the source said.
"For him it was very important that he be guaranteed security to stay in the country…although that will not stop him from travelling abroad when he wants to or has to," the source added.
Thursday Mnangagwa urged Zimbabweans to refrain from revenge.