Cote d'Ivoire: US allocates $525m earmarked for education, transport development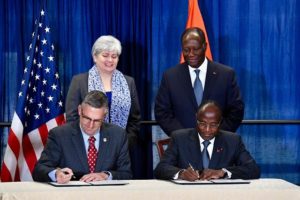 The West African country Tuesday received $524 million-loan from the US in the framework of the new compact for the development Millennium Challenge Corporation (MCC) in a ceremony in Washington oversaw by country President Alassane Ouattara.
The loan will be used for the development to two sectors namely eucation and transport, with $22 million as additional contribution by the Ivorian government itself.
The US loan will help support building of workforce capacity by extending access to secondary education and training and improving the transportation infrastructure to facilitate trade and open new markets for goods.
It will also further spur economic growth and private investment to reduce poverty and support regional stability in West Africa, state department said in a press release.
The ceremony formalized Cote d'Ivoire's achievement of MCC's compact requirements.
Launched in 2004, the program is designed poor countries and they become eligible to receive the funds after ticking off 17 independent and transparent policy indicators among which good governance and the fight against corruption.
President Ouattara welcomed the funds adding that it is meant for the future of the Ivorian nation.