Abidjan and Brussels inks several accords to boost economic ties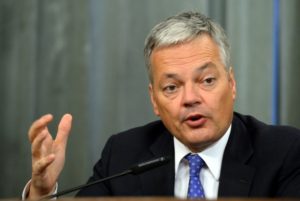 Cote d'Ivoire and Belgium Wednesday increased their ties by signing of several cooperation agreements involving private and public sectors of both countries.
Around 20 accords were signed during the three-day stay of an important and large Belgian delegation led by five ministers and over 200 business people including men and women representing 135 companies.
Details of the accords have not been revealed but Jeune Africa notes that one of the paramount agreements is the construction of a new ore terminal in the port of Abidjan.
Also part of high key delegation, Didier Reynders, the first Deputy Belgian Prime Minister who is also Belgian Foreign Minister noted that the 'exceptional' mission is another milestone in the development of relations between the two countries.
Trade influx between the two countries soared to reach 783 million euro as of 2016, representing 72 per cent growth over 4 years. The West African country is the world largest cocoa producer.
Belgium is Cote d'Ivoire's second European market for cocoa exportation. The EU member-state has been among five top foreign country investors in Cote d'Ivoire since 2012 under President Alassane Ouattara.