Finance: Zambia becomes 16th AFC member country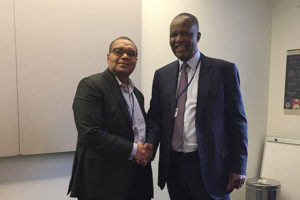 Zambia has been accepted as members of Africa Finance Corporation (AFC), becoming therefore the 16th country and the first from Southern Africa.
"We are excited to welcome Zambia as the first Southern African member country of AFC,'' the institution CEO Andrew Alli said.
The pan-African multilateral development finance institution in a statement said the Zambia's accession 'marks a significant milestone in the Corporation's mission to address Africa's infrastructure needs and build the foundation for robust economic development across the continent.'
The AFC has already invested over $150 million into a wide range of sectors such as power and downstream oil sectors. The Zambian government also benefited from the AFC's support in the form of trade finance for the importation of co-mingled oil products refining into refined petroleum products.
Zambia signed the letter of adherence early this month, October 11.
Created in 2007, AFC in present in Cape Verde; Chad; Côte d'Ivoire; Djibouti; Gabon; the Gambia; Ghana; Guinea-Bissau; Guinea-Conakry; Kenya; Liberia; Nigeria; Rwanda; Uganda; and Sierra- Leone.
Endowed with an equity capital base of $1 billion, AFC has to date invested $4.5 billion in projects across 28 countries, in various sectors including power, telecommunications, transport and logistics, natural resources, and heavy industries.
The institution was able to raise US$ 750 million in 2015 and US$ 500 million in 2017.