Ethiopia: Italian Enel Wins Bid to Build 100 Megawatt Solar Farm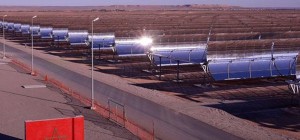 Enel Green Power (EGP) has been chosen to help expand electricity in Ethiopia through the building of 100 megawatt solar farm with a total investment of around $120 million.
The Italian company will carry out the project with Ethiopian infrastructure company Orchid Business Group which is part of the preferred bidder.
The project is will take place in the town of Metehara in central Ethiopia, in Oromia region.
The Italian company in a statement issued on Monday said the selected area '' enjoys high levels of solar radiation.''
The future plant will start operation in 2019 and will be able to generate approximately 280 GWh per year, the company said.
The green project will enable the Ethiopian government to prevent emission of around 296,000 tonnes of CO2 into the atmosphere.
Classified among one of Africa's fastest growing economies, Ethiopia still has a large chunk of its 105-million population leaving in darkness.