Somalia: Suicide attack at Mogadishu police camp kills 15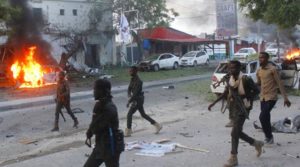 A militant of al-Qaeda-linked group al Shabaab blew himself up Thursday in a police camp on Thursday in capital Mogadishu killing 15 security forces, reports say.
The attack took place in General Kahiye Police Training Academy during an early morning parade, Reuters reports citing Police spokesman Major Mohamed Hussein.
The suicide bomber according the security official sneaked into the camp in disguise, wearing the explosives.
While authorities claim 15 officers were dead, the terror group noted that it killed 27 as it claimed responsibility for the attack.
At least 17 people have been injured, reports say.
Somali authorities have been battling the group which lost control of the capital in 2011. Several attacks staged by the group have taken place across the country and mostly in the capital.
The deadliest attack occurred in October after a truck bomb went off killing more than 500 people. Authorities blamed the group for it.
The Somali government is preparing to take gradually control of the country as the international peacekeeping mission called AMISOM operating under the banner of the African Union embarks on a gradual pullout of its 22,000 forces.
1,000 are scheduled to leave this month.