King Mohammed VI reaffirms attachment to global climate agenda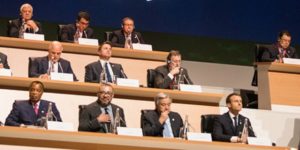 Morocco is evidencing its firm attachment to achieving the global climate agenda. The presence of King Mohammed VI at the One Planet Summit in Paris is another confirmation of Morocco's commitement in protecting the environment and curbing climate change effects.
His presence in the Summit and his unflinching commitment to the African continent development were highlighted at the opening of this global event, attended by more than 50 world leaders, at the invitation of President Emmanuel Macron.
The One Planet summit, co-hosted by the United Nations and the World Bank, brings together world leaders in Paris to mark the second anniversary of the climate change plan agreed in the French capital in 2015 and entered into force on November 4, 2016, few days prior to the UN Climate Summit, COP22, in Marrakech.
The French president Emmanuel Macron had decided to hold the summit after Donald Trump announced the US withdrawal from the historic warming pact, which aims to contain the average rise in temperature below the critical 2°C threshold, at a time the planet is always moving towards +3°C compared to the pre-industrial era.
The participation of the sovereign, accompanied by Crown Prince Moulay El Hassan, in this global event sends a strong message regarding Morocco's endeavors to gather support for global climate efforts.
Morocco has been campaigning for a multilateral approach to deal with climate change challenges, while calling for countries of the North to provide the countries of the South, especially the least developed, with urgent financial and technical support to enhance their capacities and enable them to adapt to climate change.
Climate remains a landmark feature of Morocco's commitment to Africa in line with a south-south cooperation approach that focuses on pooling efforts to address common challenges. In fact, countering climate change is a means to safeguard the future of young generations, curb calamities such as migration and displacement and promote agriculture.