Mali: Five workers of Chinese Telecommunication Company killed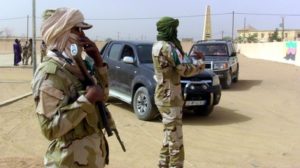 Four Malians and a Togolese working for a Chinese telecom company have been killed in South of Tombouctou after their abduction by gunmen.
The five were kidnapped Friday by unidentified gunmen as they were laying fiber optic cables in town of Niafunke, South of Tombouctou.
A lawmaker from the town under condition of anonymity indicated that abductees were founded supine the following day by a road side.
The men were working for a Chinese company. The identity of the company has not been revealed but there are three Chinese companies working in telecom projects in the West African country which has descended into insecurity following al Qaeda-linked groups' takeover of the country's North part in March and April 2012.
The jihadists have been repelled thanks to France's intervention in January 2013. France is currently leading an international force trying to keep buoyant rebels and armed groups at bay.
The killing of the five employees took place on the final day of an international forum, 'Invest in Mali' organized in capital Bamako to attract international investors.
President Ibrahim Boubacar Keita on Thursday pledged security for investors as he pointed out that choosing Mali for investment was 'act of faith'.
"You take risks to come to us, that is worth (our) respect," he said.
The country has been struggling to attack international companies and investors despite huge potential of plentiful deposits of gold, among other resources. Foreigners fear frequent kidnappings, killings and attacks.