Nigeria: Swiss government to return $321 stolen by Abacha family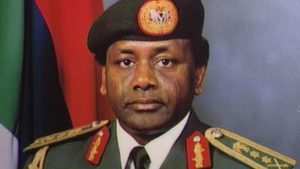 The West African oil rich country will get back around $321 million stolen by the family former dictator in a move overseen by the Swiss government and the World Bank.
Money in a form of assets have been frozen and kept in Luxembourg. The Nigerian government has sued the family of Sani Abacha who ruled the country with iron fist from 1993 until his death in 1998 for embezzling country's funds.
A Swiss court charged Abbas Abacha, son of the dictator him with money-laundering, fraud and forgery in April 2005. The court ordered the repatriation of the money located in Luxembourg.
In 2014, an agreement between the Nigerian government and the family stated that the West African country will get back the money and drop complaint against Abacha.
The Swiss government and Nigeria in 2016 agreed on the repatriation of the money
Nigeria will not get money in cash but the asset will be used to fund projects under Word Bank's supervision.
"The project will strengthen social security for the poorest sections of the Nigerian population. The agreement also regulates the disbursement of restituted funds in tranches and sets out concrete measures to be taken in the event of misuse or corruption," the Swiss government said in a statement.
Transparency international fighting corruption has accused the Abacha family of stealing around $5 billion.