Niger: US to start flying armed drones to hunt down jihadists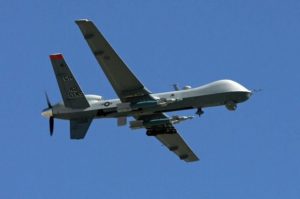 The US military has received a go-ahead from the government of Niger fly drones over sub-Saharan country in a region dogged by terror groups.
The agreement between two parties was sealed last week according to the Voice of America (VOA) citing Pentagon spokeswoman, Army Major Audricia Harris.
"The government of Niger and the U.S. stand firm in working together to prevent terrorist organizations from using the region as a safe haven. For operational security reasons, I will not comment on specific military authorities," Harris told VOA.
The announcement comes nearly two month after four American soldiers and four of their Nigerian counterparts plus their interpreter were killed in a militant attack on October 4, near the village of Tongo Tongo.
The men died after members of a U.S. Special Operations Task Force accompanied 30 Nigerien forces on a reconnaissance mission from the capital, Niamey, to an area near Tongo Tongo, were attacked after meeting with local leaders.
The US military has been assisting the Nigerien army to gather intelligence, to conduct surveillance and reconnaissance missions.
American forces currently man a drone base in the central city of Agadez but the pilotless aircrafts are only used for surveillance, reports say.
Jihadist movements have gathered steam in the Sahel region where Libyan arms have been circulating following fall of Muammar Gaddafi in 2011 in a NATO-backed revolution.
Niger, Burkina Faso, Chad, Mauritania and Mali have formed the Sahel G5 group to combat terrorism in their territories and at their borders.