Togo: Buhari, Ouattara press for genuine dialogue before choas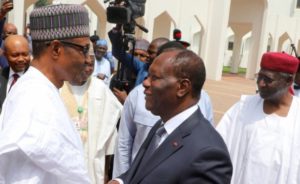 President Muhammadu Buhari and his Ivorian counterpart Alassane Drame Ouattara Wednesday called on Togolese political stakeholders namely the opposition and ruling regime to work towards a solution in order to solve the ongoing political instability before it escalates and puts the region into danger.
Both leaders met on the sidelines of EU-Africa summit in Abidjan to discuss the political crisis which has begun since August 19 and caused the death of over 15 people and an influx of refugees in Ghana.
"We must have a solution in Togo. The friends of the opposition and authorities must talk to them on the steps to jointly take to achieve stability. They must work towards gaining the trust of each other.
"There will be regional consequences for instability in Togo and this will surely come at a cost to development," President Buhari said.
The region and the African Union (AU) have been closely looking at the crisis unfold. President Buhari received last week Togo President Faure Gnassingbe who also doubles as the Chairperson the regional economic bloc (ECOWAS).
On a visit to President Ouattara also last week, President Gnassingbe indicated that he was opened for dialogue and expected the opposition to make a forward move.
A coalition of 14 opposition parties have risen against the President who has been in power for 12 years after taking over from his father who ruled for 38 years.
They demand the reinstatement of presidential two-term limit.
Ghana and Guinea are mediating the crisis for a genuine dialogue to take place early next month.