Nigeria: Migrants stranded in Libya start getting back home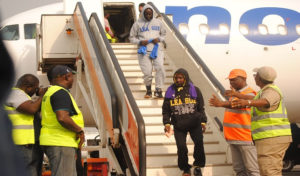 Nigerian citizens seeking to reach Europe through Libya and blocked in the North African country have started returning home, a move confirmed by country President Muhammadu Buhari on Wednesday.
As many as 239 Nigerians agreed to be flown back home on Tuesday, Africanews.com reports citing the UN's International Organization for Migration.
They were flied out from Tripoli.
President Buhari on Twitter said the federal government has ordered their repatriation.
"The situation in Libya, of people being sold into slavery, is appalling and unacceptable. We will do everything to protect our citizens wherever they might be," he also wrote.
Abuja's decision to bring back Nigerian citizens followed CNN report on November 14 showing African migrants being sold at auctions in Libya as little as $400 and as farm laborers.
The report sparked worldwide condemnation with the African Union (AU) demanding investigation and calling member-countries to help remove the migrants who pass through Libya to reach Europe's south coasts.
Nigerians are part of highest African groups trying the perilous crossing on makeshift boats.
26 Nigeria female migrants were fished out of the Mediterranean by a Spanish war vessel early this month.
Abuja confirmed the deaths and launched an investigation to establish causes of their death.
Buhari on Wednesday convened with German Chancellor Angela Merkel on the sideline of the EU-Africa summit in Abidjan.
Both agreed to strengthen commitment to the issue of migration and ways to curb the tide of illegal migration of Nigerians.