Burkina Faso: Three civilians wounded in grenade attack against French forces shortly before Macron's arrival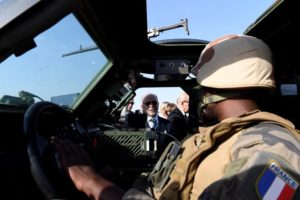 A grenade attack against French forces late Monday in capital Ouagadougou left three civilians wounded shortly before visiting French President Emmanuel Macron arrived in the West African country, reports say.
Two hooded men on a motorbike threw a grenade at a French military vehicle in the capital few hours before the French leader was due to address audience at University of Ouagadougou.
Three civilians were wounded in the attack. The attackers managed to flee the scene. No group claimed responsibility for the attack.
President Macron picked Burkina Faso as the opening leg of his first African tour to take him to Cote d'Ivoire and Ghana.
Burkina "is an emblem of the democratic aspirations of Africa's youth", he said on arriving.
The French leader is on a seduction mission to try to win over anti-France sentiment that has grown in the country and cross the francophone region because of Paris's support for autocratic regimes and maintenance of CFA franc.
A popular uprising uprooted former President Blaise Campaoré in 2014 after ruling for 27 years. Citizens believe Paris managed to secure his exile in neighboring Cote d'Ivoire where he has been, evading demands for trials.
Paris is trying to develop new bonds based on mutual respect and cooperation programs in the areas of youth entrepreneurship, security, sports, green energy and education.