Zimbabwe: Mnangagwa names two Mugabe area officials as acting ministers before new cabinet appointment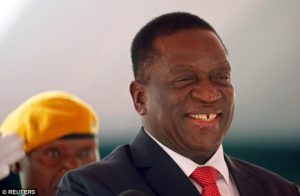 President Mnangagwa has dissolved government but appointed two top officials of Mugabe area as acting finance and foreign affairs ministers before unveiling much-awaited new cabinet to bring change to the Southern African country.
The new leader according to his Chief secretary Misheck Sibanda, has appointed Patrick Chinamasa as acting finance minister and Simbarashe Mumbengegwi as acting foreign minister.
Both appointments according to Sibanda are made to "allow uninterrupted services in critical ministries of government."
Chinamasa held same position until October reshuffle that moved him to the cyber security department.
Mumbengagwi on the other hand before Mugabe's Tuesday resignation was leading country's macro-economic planning department but held the new position previously in the past.
Mnangagwa officially took over Friday from the former 93-year old President who was forced to step down early last week on Tuesday after the military took control of the country weeks ago after he was fired by his previous boss.
He lost his position of Vice-President after being accused of "disloyalty" and alleged attempt to topple Mugabe.
Thousands of Zimbabweans celebrated Mugabe's resignation and expect the new leader to revive country's economy and create new jobs.
Meanwhile state-run newspaper, the Herald, has announced that Mugabe's birthday, 21 February has been made a public holiday.
The former leader gained independence for the country in 1980. He was hailed a leader in his country and across Africa until he attempted to cling to power.