Congo: Dangote cement to get foot in the door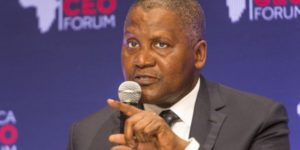 Nigerian billionaire and richest man in Africa, Aliko Dangote will inaugurate Thursday his first cement factory in the country already housing four producers.
$300 million have been invested to erect the Mfila-based factory. The plant has been operational since September.
Gangote's entry into Congo-Brazzaville will move the central African country's cement output from 1.7 million tons to 3.2 million tons. SONOCC, Forspak, Diamond Cement and CIMAF are dominating the local market.
The new investment also falls within the company's strategic plan to scale its production capacity on the continent to 77 million by 2019, reports say.
The Nigerian giant has seen its continental performances on the rise, 19.2 per cent increase, despite a slight plunge in Nigeria due to the national economic slowdown.
The company has recorded a 21.76 per cent rise in its activities in Senegal, 19.8 per cent in Ethiopia and a 16.4 per cent increase in Cameroon.