Kenya: Supreme Court confirms Uhuru Kenyatta winner of re-run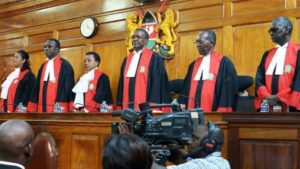 The Supreme Court has proclaimed incumbent President Uhuru Kenyatta winner of October rerun after brushing aside petitions challenging the poll boycotted by main rival.
The jury made news after it declared August presidential poll "marred with irregularities and illegalities" denying therefore President Kenyatta a margin winner over main opposition candidate Raila Odinga.
It called for a re-run on October 26 which Odinga boycotted accusing the electoral commission of failing to implement reforms.
Chief Justice, David Maraga gave the verdict of the six members of the court who have confirmed the incumbent President winner.
Kennyatta won 98 per cent of vote, with turnout put at 39 per cent.
The court judged petitions by civil society groups and the opposition not "merited".
The verdict clears the way for Kenyatta's second term in office. He will be inaugurated on November 28 for another five-year term.
The ruling sent mixed feelings in parts of the country. Supporters of the winner poured in the street to celebrate while the opposition supports set demonstrations.