Zimbabwe: Mugabe's days in power counted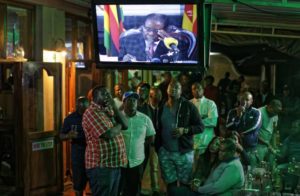 Defying President Mugabe is facing impeachment after refusing to step down on Sunday despite mounting pressure from the army and within party.
The 93-year old President in a speech read on the national television and in presence of the military avoided to declare his resignation as expected by the army and the population.
Ruling Zanu-PF central committee instructed Mugabe to stand side by midday Monday or face impeachment.
The Zimbabwean leader who has found himself isolated was removed as party leader on Sunday. He has been replaced by Emmerson Mnangagwa who he fired early this month for disloyalty.
Mugabe's defiance has frustrated many Zimbabweans who earlier on took to street to demand his resignation.
On Monday, students at University of Zimbabwe reportedly refused to take their exams, asking the president to throw in the towel.
Mnangagwa is expected to lead an interim government that will prepare new elections. The country was set go to polls next year with Mugabe chosen as Zanu-PF candidate.
The impeachment proceedings however will take days as the parliament does not convene on Monday and vote on Tuesday is uncertain, reports say.
The army intervened Wednesday after their favorite, Mnangagwa was fired. It put Mugabe under house and picked up some members of cabinet that it qualified as "criminals".
It also said it was stepping in so as to end put an end to purge of independence veterans within the ruling party.