Zimbabwe: Mugabe makes first public appearance since power seizure by military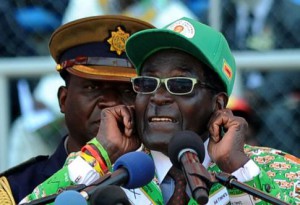 President Robert Mugabe has appeared in Public today Friday despite demands by the army and opposition to step down, reports say.
The 93-year old President took part in a graduation ceremony at Zimbabwe Open University of Harare, his first public appearance since the military announced Wednesday it took control of country's affairs, Jeune Afrique reports.
Thursday state media Herald published a picture of Mugabe, army general Constantino Chiwenga, together with two South African envoys.
Mugabe has refused to give in to pressure from the army for his retirement.
However Media mogul and Alpha Media Holdings owner Trevor Ncube on Twitter said negotiations for Mugabe's retreat have made headway and an end to the turmoil should come soon.
"I am reliably informed that a deal is being finalised. It appears Mugabe's demands for safe passage for his family have been granted. Final details might be confirmed in a few hours."
Scanty details have emerged about Grace, Mugabe's wife.
The 53-year old First Lady was the source of the crisis after she reportedly pushed her husband to sack Vice-President Emmerson Mnangagwa last week.
She hoped to axe Mnangagwa who enjoys the support of the army within the ruling Zanu-PF in case someone should replace Mugabe when he retires.
Thursday, opposition leader Morgan Tsvangirai from the MDC, called the Zimbabwean leader to step down with immediate effect.
"In the interest of the people, Mugabe must resign and step down immediately in line with national expectations and sentiments, taking full regard of his legacy and contribution to Zimbabwe pre and post-independence," he said a day after returning from South African where is receiving cancer treatment.
He also lauded the army and war veterans for taking their responsibilities in ensuring citizens' fundamental rights and the liberation of the country.