DRC: Opposition brushes aside new presidential election date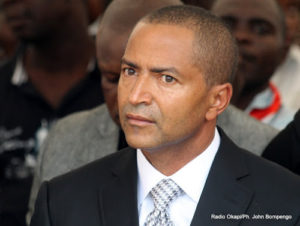 The opposition and the civil society have rejected the announcement by the national electoral commission to hold long waited presidential election in December 2018, allowing therefore incumbent and disputed President Joseph Kabila to exceed December 31, 2017 deadline agreed in a recent political deal.
The announcement by Corneille Nangaa, President of Electoral Commission on Sunday to organize presidential to replace President Joseph Kabila December 23, 2018 has caused shockwaves in Congo and overseas.
"The predatory regime wants to prolong the instability and misery of the people. We do not accept this fantasy calendar," exiled opposition leader Moise Katumbi tweeted from Belgium.
The rich man who is wanted in his country by the justice added that Kabila must step aside end of this year in favour of a transition. Katumbi also announced his return for December.
A civil society movement, Lucha also protested as it called for the unification of the opposition and the entire nation to force Kabila out at end this year.
In power since 2001 following the assassination of his father, Kabila's two-term mandate ended December last year but political accords between the regime and opposition set end of December for his departure with the organization presidential elections.
Nangaa last month said he could not organize the election in line with the accords, setting the new date not earlier than April 2019.
He Sunday told a press conference that the new date was designed with pressure from the international community and the opposition.
The future elected president will be inaugurated on January 13, 2019.
Nangaa also noted that around 43 million people have registered so far for the process in the largest African country.
The announcement of the new date comes following the visit to the country late last month by US permanent UN envoy Nikki Haley. Haley called on the Congolese government to set the elections for before end 2018.