Mali: 11 soldiers made captives by jihadist group allegedly killed in French raid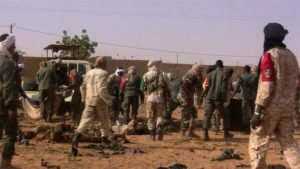 Sources within the Malian army have indicated that 11 soldiers who have been held captive by Jama'ah Nusrat al-Islam wal-Muslimin (JNIM) were likely killed in a French raid late October.
A senior officer in the Malian defense ministry who did not want to be named said that they have evidence; pictures confirming the death of the 11 soldiers, reports say.
The operation which involved around 4,000 French forces took place in the night of October 23.
JNIM mid-October released a recording of the soldiers who were captured in separate attacks in 2016 and 2017.
The soldiers in the video recording gave their names and detailed circumstances of their capture.
They appealed to President Ibrahim Boubacar Keïta to help secure their release.
The French troops known under the name 'Barkhane' stroke the jihadist group's position around Kidal.
The troops admitted that they destroyed a jihadist camp but did not say whether the soldiers were killed during the air operation.
However local news sources pointed out last week that the French troops apologized to the defense ministry.