Nigeria: Abuja confirms death of 26 female migrants on Mediterranean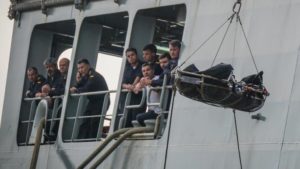 The federal government has confirmed the 'tragic' death 26 Nigerian migrants, all female, on the Mediterranean after their bodies were found by a Spanish war vessel.
The dead according a statement issued by the foreign ministry were aged between 14 to 18 and were discovered on Sunday by Cantabria, a Spanish Warship which brought the remains to the Port of Salerno, in southern Italy.
The government said it received confirmation from its mission in Rome and also added that an investigation has been launched to establish causes of their death.
375 other migrants among 111 women were saved and brought to Salerno. Around 50 are reported missing. Nine of the women were pregnant reports add.
Italian authorities in Salermo have also launched a probe into the case and two smugglers namely one Libyan and the other Egyptian have been arrested in connection with the death of the female migrants.
The two identified as Al Mabrouc Wisam Harar from Libya and Egyptian Mohamed Ali Al Bouzid were skippers of one of the boats carrying over 400 migrants.
The two smugglers were reportedly identified by some survivors.
The passengers including men on the boats were largely from Nigeria, Ghana, Senegal and Sudan.
Salerno Prefect, Salvatore Malfi denied allegations the women were being trafficked for the flesh trade or were victims of rape.
"Trafficking routes are different, with different dynamics used. Loading women on to a boat is too risky for the traffickers, as they could risk losing all of their 'goods' – as they like to call them – in one fell swoop," he said.
Over 111,700 people tried the dangerous crossing over the past 10 months this year. The number of arrivals has recently decreased following agreement between Libya and Italy to stem the illegal trafficking.
Close to 3,000 people have died so far this year while trying the crossing.