Egypt: Al-Sisi pledges faithfulness to constitution ruling out third term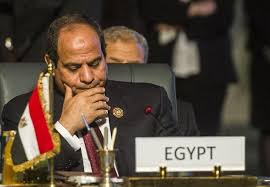 President al-Sisi Monday vowed to remain faithful to Egypt's two-term presidential tenure should he win next year elections at time prominent critics are jailed or forced into exile.
Speaking in interview with US CNBC aired on Monday, al-Sisi who came to power in 2014 did not say he will run again next year also marking the end of his term.
"I'm with preserving two four year terms and not to change it," he said.
"I'm not for any amendments to be made to the constitution in this period," he added.
The former army general first came to power after overthrowing Egypt's first democratically elected President Mohamed Morsi in 2013.
He has led the country with an iron hand muzzling over 60,000 critics and human rights activists. Many of them have been handed jail sentences in mass trails while hundreds of them have gone into exile.
His main critical group, the Muslim Brotherhood has been banned with its top leaders including President Morsi locked up over several charges.
Even though he did not indicate to run next year, his supporters who control the parliament have suggested constitutional reforms to allow him stay in power for a lengthy period.
Monday, Khaled Ali , a lawyer who soared to prominence after challenging the Egyptian government's last year decision to transfer the two Red Sea islands to Saudi Arabia announced his candidacy for March to April 2018 elections.
Ali announced his candidacy at press conference in capital Cairo indicating that Egypt was a deep crisis.
Ali is yet to fight against the judiciary which pressed a three-month jail term against him for public indecency after "he was accused of making a vulgar hand gesture outside a Cairo courthouse in January when he scored a legal victory over Mr. al-Sisi in the islands case."
He is expected to face the judiciary on Wednesday in an appeal. He can be disqualified from the race he losses the case.