Eritrea: '25 Protestors Killed during demonstrations in Asmara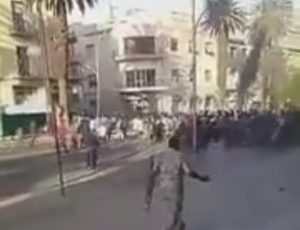 The opposition in Eritrea has accused the regime of President Isaias Afwerki of the killing of at least 28 people in Tuesday demonstrations in capital Asmara.
The Red Sea Afar Democratic Organization on its facebook account noted that '28 martyrs died while 100 were wounded in the rare demonstrations ever witnessed in the country known as Africa's North Korea.
The figures have been unconfirmed even though the US embassy issued warnings indicating gunfire and advised people to say way from Akhria neighborhood of the capital, the epicenter of the protests.
Demonstrations erupted Tuesday after a group of students rallied to oppose government decision to take control of Al Diaa School; a private Islamic School founded by the late Ustaz Mohammed Beshir Ahmed in 1967.
Government has detained Hajji Musa, an honorary President of the school sparking anger of the school students. Other protestors joined the students given momentum to the rally which spread across the streets of central Asmara.
Security forces according to reports used brutal force to extinguish the protests.
The government confirmed the capital was rocked by protests but denied that there were causalities.
"Small demonstration by one school in Asmara dispersed without [casualties] hardly breaking news," Yemane G Meskel, minister of information tweeted.
The eastern African country locked between Ethiopia, Sudan and Djibouti is described as one of the world's undemocratic countries where freedom of party, speech and human rights are confiscated by an authoritarian regime in place since 1993, since independence after decades and series of war with Ethiopia.
A UN report in June detailed arbitrary arrests and incommunicado detention of human rights activists, forced national service system in form of enslavement.