Kenya: Voters queue up for re-run election under high security tension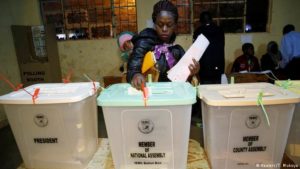 Kenyans have lined up at polling stations to cast their vote for the election re-run boycotted in the opposition strongholds.
President Uruh Kenyatta seeking a second term urged supporters and Kenyans to go out cast their vote in what appears as one of the most disputed elections of the country.
Calls for by the main opposition to postpone the re-run have failed with the Supreme Court saying Tuesday that it could deliberate due to lack of quorum.
Main opposition candidate Raila Odinga has pulled out of the presidential race accusing the Independent Electoral and Boundaries Commission (IEBC) of refusing to overhaul the commission accused of irregularities by the Supreme Court.
He made his participation contingent on the reforms after Supreme Court Chief Justice David Maraga annulled August 8 results declaring President Kenyatta winner.
Maraga said the election had not been conducted in accordance with the constitutions, sparking anger on the Kenyatta side.
There have been reports of clash between opposition supporters in the western city of Kisumu and Kibera, around capital Nairobi. Security forces used tear gas, live-rounds and water cannons.
Gangs and youth groups have tried to prevent the voting in some cities, burning barricades throwing stones.
Polling officials in cities in favor of the opposition have not effectively turned out and those who showed up, are afraid to distribute voting materials.
2007 disputed elections have left serious scars on the country riven by ethnic divisions. 1,200 people were killed during the electoral process.
50 people have died so far and calls for calm have been multiplied.
The head of the IEBC said last week he could not guarantee free and fair elections arguing that his colleagues are threatened.