Morocco Responds to Algerian FM's Defamatory Accusations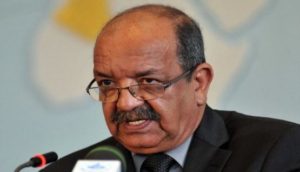 Following the verbal accusations uttered by Algerian Foreign Minister, Abdelkader Messahel, during a meeting at the Algerian Business Leaders Forum, who accused Moroccan banks of laundering cannabis money in Africa, the Professional Grouping of Moroccan Banks (GPBM) released a statement rejecting such accusations and describing it as "hateful and irresponsible". The statement added that it "reflects complete and blatant ignorance of governance rules and ethics governing activities by Moroccan banks all over the world and of course in the African continent,"
The Professional Grouping of Moroccan Banks reserves the right to reply to the serious remarks made by the Algerian foreign minister, the statement said, pointing out that Moroccan banks deplore that Algerian officials failed to keep pace with the institutional and economic evolution witnessed by African countries in all areas.
Last May, Attijariwafa Bank, la Caisse Centrale de Garantie and le Groupe Crédit Agricole du Maroc have all won 2017 African Banker Awards in various categories.
Moroccan banks are now present in 22 African countries and around 17 per cent of their foreign activity is on the continent.