Zimbabwe: WHO rescinds Mugabe appointment over global outrage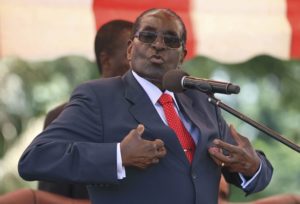 Head of World Health Organization, Dr Tedros Adhanom Ghebreyesus has scraped his decision to appoint President Robert Mugabe as the UN branch's Goodwill ambassador after he faced global outrage following the appointment of the Zimbabwean President.
"I have also consulted with the Government of Zimbabwe and we have concluded that this decision is in the best interests of the World Health Organization," said a statement from WHO in Geneva.
Tedros on Saturday on tweeter said he heard the concerns and the thoughts of Health figures and human right activists who lambasted Mugabe's appointment last week at conference on non-communicable diseases in Latin America.
Richard Horton, editor-in-chief of the British medical journal The Lancet lauded Dr Tedros's decision to scrap Mugabe appointment as a right decision adding that the WHO Director General showcased strong leadership.
Mugabe, 93, is accused by critics of leaving country's health system in shambles while spending millions regularly on medical attention in Singapore.
At the head of Zimbabwe for four decades, Mugabe according to Tedros deserved the honor for "placing universal health coverage and health promotion at the center of its policies to provide health care to all."
Tedros, an Ethiopian citizen, is the first African to head the UN health agency and has been credited with good performance just 100 days in office.