DRC: Government Official allowed in EU territory despite ban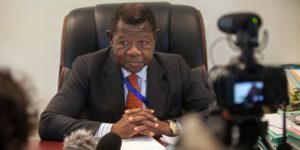 The Congolese government spokesperson is sojourning in Brussels despite the ban to land or transit through any member-state of the EU bloc.
Lambert Mende who officiates as cabinet minister of communication and media is part of a group of Congolese senior officials targeted by EU sanctions including a travel ban stopping them from entering or transiting the bloc.
The EU sanctions announced in May also freeze their assets.
The shortlist of nine state officials is accused of cracking down media and obstructing a consensual and peaceful decision for presidential elections in the Democratic Republic of Congo (DRC).
Mende who confirmed to Jeune Afrique that he is currently in the Belgian capital has been granted special derogation on humanitarian ground.
Belgian authorities have also confirmed that Mende has been allowed in on humanitarian ground. He has been granted a short stay visa and his sojourn put under surveillance.
He in August following the announcement of the sanctions indicated his mother was terribly seek in Belgium and that his only regret is not being able to go to see her.