South Africa Airways: The New Cabinet Reshuffles Top Managers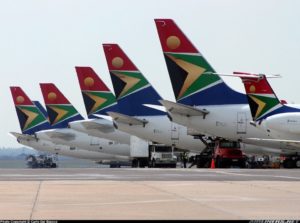 The South African government has undertaken some changes at the head of country's national carrier South Africa Airways (SAA) nose-diving into utter losses.
The new changes targeted President Zuma's ally Dudu Myeni who was replaced by Johannes Bhekumuzi Magwaza nicked named 'JB'.
Myeni was appointed in September last year for one year.
Magwaza faces a daunting task of put an end to mounting losses incurred by the airline.
SAA in September received state funds to repay debt and still have to settle around $374 million of maturing debt to local lender, reports say. The company is likely to receive another state financial support to balance figures and set a new course.
The new appointments brought Nolitha Fakude as deputy chairperson, Ahmed Bassa, Tinyiko Mhlari, Martin Kingston and Geoff Rothschild.
The South African Public Investment Corporation (PIC) which manages the country's pension fund on Wednesday said it could throw some money into the SAA to help the government prop up state-run companies including the national carrier.
Finance minister, Malusi Gigaba however in September said the cabinet will not take money from the PIC to save country's falling firms.
Of Magwaza's appointment, Gigaba said it will bring "in-depth knowledge of business in both the private and public sectors".
Credit rating agencies have warned authorities of plans to revamp the airline adding that the cost constitutes a threat to South Africa's credit rating.
S&P Global Ratings and Fitch have downgraded South Africa's credit to "junk" status, Reuters reports.